The Tea Room, Chocolate Fusion, Milk Chocolate, Honeybush Caramel, 1、8 oz (51 g)
前陣子在網路購物時看到The Tea Room, Chocolate Fusion, Milk Chocolate, Honeybush Caramel, 1、8 oz (51 g)的商品,發現品質還不錯,很多口碑文章推薦,但:The Tea Room, Chocolate Fusion, Milk Chocolate, Honeybush Caramel, 1、8 oz (51 g)哪裡買比較划算呢?The Tea Room, Chocolate Fusion, Milk Chocolate, Honeybush Caramel, 1、8 oz (51 g)在PTT上面說這個網站便宜又快速,所以我都到這個網站購買The Tea Room, Chocolate Fusion, Milk Chocolate, Honeybush Caramel, 1、8 oz (51 g)了!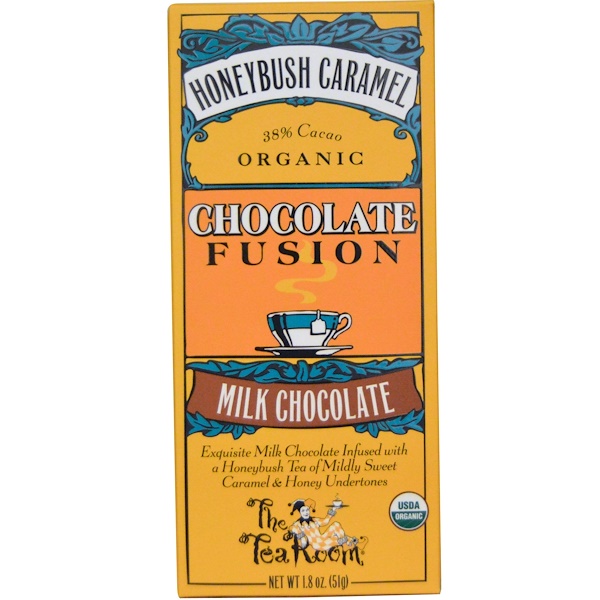 38% Cacao
Organic  
USDA Organic
Premium Organic Chocolate
Gluten Free, Non GMO, Fair Trade
Exquisite milk chocolate infused with a honeybush tea of mildly sweet caramel & honey undertones.
Luxuriate with unique infusions
Indulge your palate… with an exquisite medley of flavors: premium organic milk chocolate from Europe, and organic honeybush caramel tea from South Africa.
Let it melt on your tongue, while you unwind. The smoothness of chocolate and the aromas of tea titillate the senses. Relax for a moment and transport yourself to a Parisian tea salon. The flavors are authentic and masterfully combined by our chief chocolatier, Heinz Rimann. His electric culinary journey began in Switzerland, wound through London to DR Congo, Hong Kong and finally San Francisco. A passion for teas from around the globe brought him to start a patisserie and teashop, known as The Tea Room.