Natural Factors, VegiDay, Raw Organic Plant-Based Protein, Decadent Chocolate, 34、28 oz (972 g)
前陣子在網路購物時看到Natural Factors, VegiDay, Raw Organic Plant-Based Protein, Decadent Chocolate, 34、28 oz (972 g)的商品,發現品質還不錯,很多口碑文章推薦,但:Natural Factors, VegiDay, Raw Organic Plant-Based Protein, Decadent Chocolate, 34、28 oz (972 g)哪裡買比較划算呢?Natural Factors, VegiDay, Raw Organic Plant-Based Protein, Decadent Chocolate, 34、28 oz (972 g)在PTT上面說這個網站便宜又快速,所以我都到這個網站購買Natural Factors, VegiDay, Raw Organic Plant-Based Protein, Decadent Chocolate, 34、28 oz (972 g)了!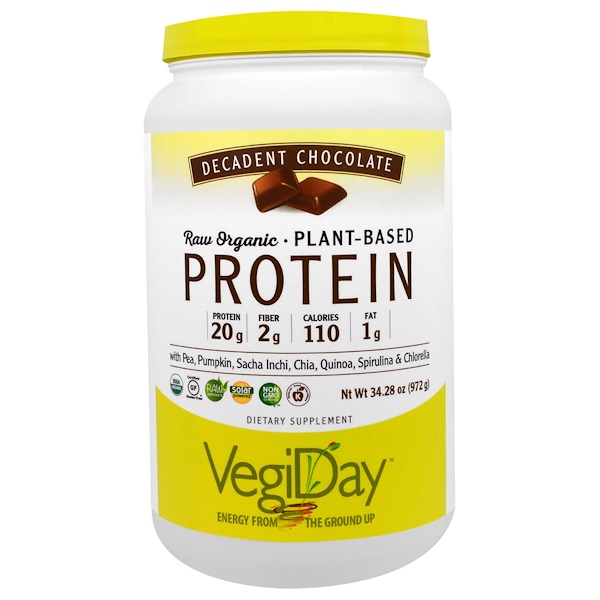 Protein 20
Fiber 2
Calories 110
Fat 1 g
With Pea, Pumpkin, Sacha Inchi, Chia, Quinoa, Spirulina & Chlorella
USDA Organic
Certified Gluten Fre
Raw Ingredients
Solar Powered
Non GMO Certified
Natural Food Kosher Certifiers
Dietary Supplement
VegiDay Energy From The Ground Up
Certified Organic by Ecocert ICO
Purity & Potency Guaranteed
ISURA Non-GMO - Mass SPEC - Documentation - Lab Tested
VegiDay Energy from the ground up- nourishing our world, one meal at a time.
Everyone on our marvelous planet deserves to be well nourished. But as Earth's population continues to grow, how will we feed everyone? The simplest- and most sustainable - route to nourishing the world is to produce food that uses less of the plant's resources. A seed only requires water, some nutrients from the soil, and whole lot of energy from the sum to become a nourishing plant that can sustain life. Producing animal protein uses far more resources to deliver an equivalent amount of protein. When we choose to replace animal protein with plant protein, even for just one meal a day, we save enough resources to give five more people a serving of plant protein. A diet rich in plants is also better for our health, and better for the environment. VegiDay is part of a growing movement that encourages use to welcome and sustain life by reducing our consumption of animal protein.
The best tasting and highest quality organic vegan protein -also available in these delicious flavors: French Vanilla and Berrylicious. Also available in Unflavored.
Provides 20 g protein per serving
Makes a healthy and convenient snack option
This organic vegan formula includes a wholesome combination of 7 gluten-free, soy-free, and non-GMO, easy to digest protein sources: pea, pumpkin, sacha inchi, quinoa, chia, spirulina, and chlorella
No artificial colors, flavors, additives, or sweeteners
With natural organic flavors
Tested by Natural Factors to ensure safety and potency in accordance with Good Manufacturing Practices (GMP) of the FDA and Health Canada.