Sunwarrior, Classic Protein, Organic Plant-Based, Natural, 13、2 oz (375 g)
前陣子在網路購物時看到Sunwarrior, Classic Protein, Organic Plant-Based, Natural, 13、2 oz (375 g)的商品,發現品質還不錯,很多口碑文章推薦,但:Sunwarrior, Classic Protein, Organic Plant-Based, Natural, 13、2 oz (375 g)哪裡買比較划算呢?Sunwarrior, Classic Protein, Organic Plant-Based, Natural, 13、2 oz (375 g)在PTT上面說這個網站便宜又快速,所以我都到這個網站購買Sunwarrior, Classic Protein, Organic Plant-Based, Natural, 13、2 oz (375 g)了!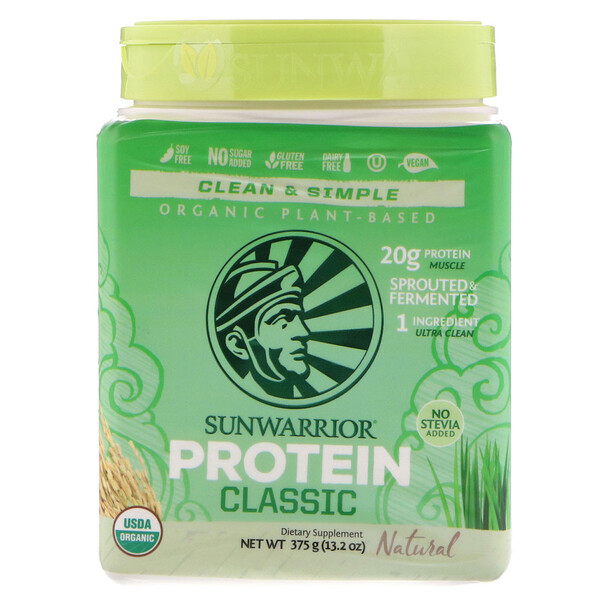 Soy Free
No Sugar Added
Gluten Free
Dairy Free
Kosher
Vegan
Clean & Simple
20 g Protein (Muscle)
Sprouted & Fermented
1 Ingredients (Ultra Clean)
USDA Organic
No Stevia Added
Dietary Supplement
Certified Organic by CCOF
A Raw Superfood Company
Simple, Clean Ingredients
Easy on Digestion
Whole Grain Brown Rice Protein
Low Glycemic Index
Sunwarrior is committed to making the best plant-based proteins and superfood supplements. Our mission to illuminate body, mind, and planet drives everything we do from sourcing the finest organic ingredients across the globe. It's who we are.
From The Conscious Warrior
Simply Whole Grain Brown Rice
Transformed by active enzymes, Classic is gentle, eco-friendly, earthy, yet strong. Relying one renewable protein source, this is allergen-friendly nutrition in its purest form, but don't expect the gentle nature of brown rice to lead to meek results applied to your active life. Being a connoisseur of simplicity doesn't mean you don't demand the absolute most from your body or your food. Classic won't disappoint, delivering plenty of protein and balanced amino acids for Conscious Warriors with active lives!