Eco Teas, 巴拉圭茶,茶葉未經熏制,16 oz (445 g)
前陣子在網路購物時看到Eco Teas, 巴拉圭茶,茶葉未經熏制,16 oz (445 g)的商品,發現品質還不錯,很多口碑文章推薦,但:Eco Teas, 巴拉圭茶,茶葉未經熏制,16 oz (445 g)哪裡買比較划算呢?Eco Teas, 巴拉圭茶,茶葉未經熏制,16 oz (445 g)在PTT上面說這個網站便宜又快速,所以我都到這個網站購買Eco Teas, 巴拉圭茶,茶葉未經熏制,16 oz (445 g)了!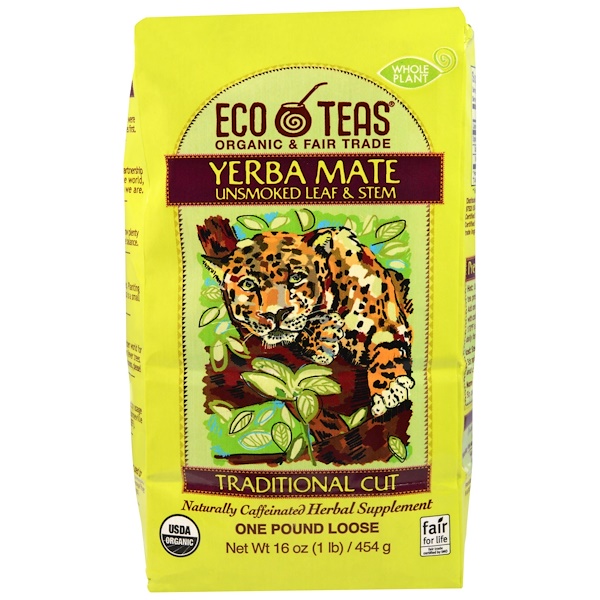 Organic & Fair Trade
Whole Plant
Traditional Cut
Naturally Caffeinated Herbal Supplement
USDA Organic
One Pound Loose
Fair For Life- Fair Trade Certified by IMO
Gluten Free
Naturally Caffeinated
Naturally Caffeine- Free
KSA Kosher
Non GMO Project Verified
Certified Organic by Oregon Tilth (OTCO)
USDA Accredited
Certified Fair for Life by IMO
Made with 100% Certified Trade Ingredients
Made with 100% Certified Fair Trade Ingredients
Yerba mate is a holly tree native to the rainforest of South America. Its leaves are brewed into a stimulating, antioxidant-rich beverage, mate (say "mah-tay"). Our yerba mate is dried with warm air instead of smoke for a smooth, clean taste.
A Sustained Energy Tea Supplement
Enhanced physical energy
Stimulates mental clarity
Supports weight loss regimens that include a balanced diet and exercise
Elevates mood
Aids elimination
Antioxidant Power
When brewed as directed, this tea supplement has an ORAC value of 11,000 umol/240 ml, which is 5.5 times stronger than a typical cup of green tea brewed with a tea bag.
Our Eco Commitments
USDA Organic - Long before we started EcoTeas, we were organic gardeners. For us, organic comes first.
Fair for Life -Fair Trade Certified by IMO- As three best friend working in partnership with small farmers around the world, Fair Trade is just part of who we are.
Non GMO Project Verified - Nature knows best. We can grow plenty of food without upsetting the balance.
Our love of nature runs deep. Planting native trees in South America is a small gift back to the world.
Proud to Support Clean Energy - b-e-f.org - We offset our office electricity usage with green tags from the Bonneville Environmental Foundation (BEF).
Proud to be Water Steward- b-e-f. org- For every eight ounces of water used to brew our tea, we work with BEF to restore eight ounces of water to the Rogue River Watershed in southern Oregon.