The Tea Room, Chocolate Fusion, Dark Chocolate, Lapsang Souchong, 1、8 oz (51 g)
前陣子在網路購物時看到The Tea Room, Chocolate Fusion, Dark Chocolate, Lapsang Souchong, 1、8 oz (51 g)的商品,發現品質還不錯,很多口碑文章推薦,但:The Tea Room, Chocolate Fusion, Dark Chocolate, Lapsang Souchong, 1、8 oz (51 g)哪裡買比較划算呢?The Tea Room, Chocolate Fusion, Dark Chocolate, Lapsang Souchong, 1、8 oz (51 g)在PTT上面說這個網站便宜又快速,所以我都到這個網站購買The Tea Room, Chocolate Fusion, Dark Chocolate, Lapsang Souchong, 1、8 oz (51 g)了!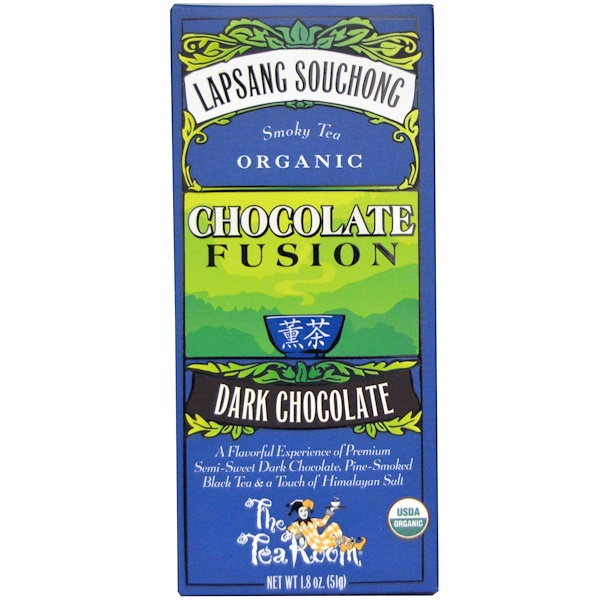 Smoky Tea
Organic
USDA Organic
Premium Organic Chocolate
Gluten Free, Non GMO, Fair Trade
A flavorful experience of premium semi-sweet dark chocolate, pine-smoked black tea & a touch of Himalayan salt.
A chocolate Experience Unlike any other
The Tea Room creates their chocolate fusions to unearth a chocolate experience unlike any other. This bar combines the finest 60% dark chocolate with smoky-flavored lapsang souchong tea from Fujian & a touch of Himalayan salt.
All of the Tea Room's Chocolate Fusion Creations are masterfully crafted by our chief chocolatier, Heinz Rimann, whose culinary journey began at the early age in a small village in Switzerland; winding through London, Dr Congo, Hong Kong and finally San Francisco. A passion for exotic international teas & chocolates brought him to start a chocolate company delivering not only flavor but quality with the utmost care: The Tea Room Chocolate Company.