Nature's Path, Organic, Mesa Sunrise, Gluten-Free Cereal, 26、4 oz (750 g)
前陣子在網路購物時看到Nature's Path, Organic, Mesa Sunrise, Gluten-Free Cereal, 26、4 oz (750 g)的商品,發現品質還不錯,很多口碑文章推薦,但:Nature's Path, Organic, Mesa Sunrise, Gluten-Free Cereal, 26、4 oz (750 g)哪裡買比較划算呢?Nature's Path, Organic, Mesa Sunrise, Gluten-Free Cereal, 26、4 oz (750 g)在PTT上面說這個網站便宜又快速,所以我都到這個網站購買Nature's Path, Organic, Mesa Sunrise, Gluten-Free Cereal, 26、4 oz (750 g)了!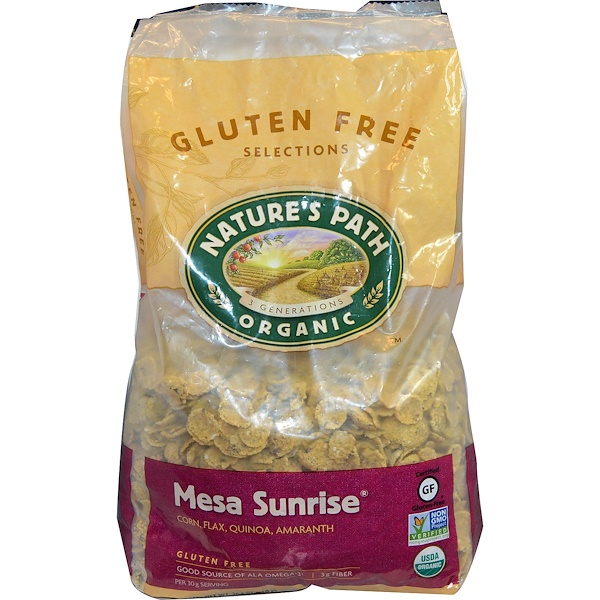 Gluten Free Selections
3 Generations
Corn, Flax, Quinoa, Amaranth
Good Source of ALA Omega-3
3 g Fiber
Per 30 g Serving
Certified Gluten-Free
Non GMO Project Verified
USDA Organic
This Product is Third Party Certified Organic by Quality Assurance International (QAI)
We're so happy our paths have crossed.
Was it the trail of toasted gluten free flakes or the sprinkling of ALA omega-rich flax seeds that led you here? Maybe you were looking for a nutritious bowl of cereal when you came upon this unique blend of quinoa, corn, and nutty amaranth. Or, maybe you just wanted a breakfast inspired by the traditional foods of the Mesa Verde Mountains.
Wherever your reason for winding up on Nature's Path, we're glad you did. And if you want to find more foods that are good for you, your family, and the plant, here are the signs to look for.
Certified Organic
Unlike "natural" label claims, certified organic products are guaranteed to have been grown without chemical herbicides and pesticides, and there are never synthetic preservatives or additives. Because, really, who want any of that for breakfast?
Non-GMO
"GMO" stands for "Genetically Modified Organisms". Doesn't sound too tasty, does it? The Non-GMO Project agrees, and their verification assures you that the food you're buying it made in a kitchen- not in a lab.
†Contains 0.4 g of ALA per serving, which is 18% of the 1.6 g daily value for ALA.